On December 10, 2014 the last item of the Volgograd Deep Conversion Complex project was delivered by ALTIUS to the site at Lukoil Refinery in Volgograd (Russia).
This unit represented the last of twelve project cargo shipments from Korea.
All these pieces were transported on river barges to Volgograd from Novorossiysk, where they had been previously unloaded from a heavy-lift vessel.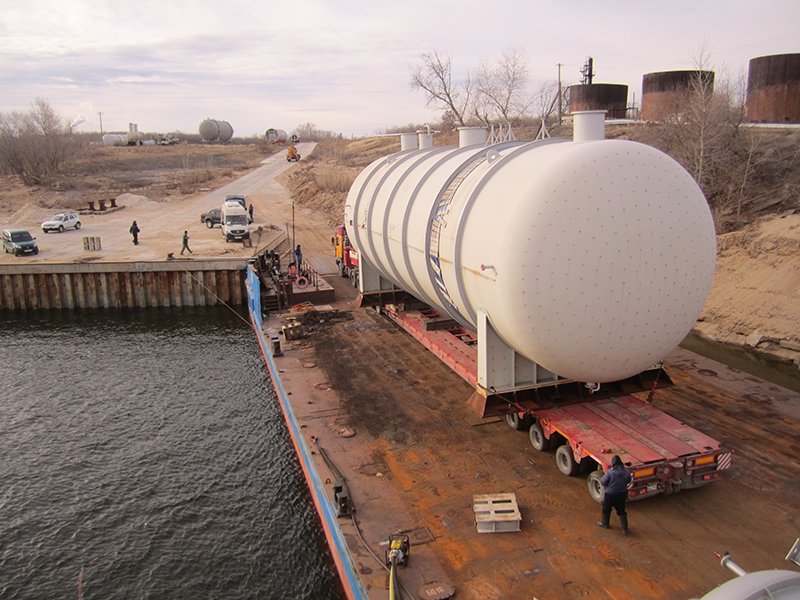 Discharging operations from the barge were performed on a RO-RO basis, using conventional trailers, and also on a LO-LO basis with the assistance of a mobile crane operating from shore.
The barge's river voyage along the Volga-Donn Channel was completed just two days prior to the closing of this channel due to the winter season, when the river traffic is stopped from December to March.
Some difficulties arose during the last land transportation of these pieces to the refinery mainly due to frozen roads, snow and extreme temperatures of up to -20º C.
The end result of this effort was the successful completion of all shipments in this project on time, with no damages or incidents and to the full satisfaction of both Lukoil and Tecnicas Reunidas-Initec.
Possibly the most important aspect of this project was the level of cooperation, patience and teamwork achieved to execute the job.
With this last delivery, ALTIUS completes the transportation of all the oversized and heavy-lift equipment necessary for the upgrade of Lukoil Refinery in Volgograd, which were shipped from several origins such as Korea, India, Spain, Italy, Turkey and UAE.
19 December, 2014
0
0
pablo@mdavila.com
https://grupoaltius.com/wp-content/uploads/2021/03/altius_neg2-300x95.png
pablo@mdavila.com
2014-12-19 19:09:57
2021-03-14 20:08:48
Delivery of the last item of the Volgograd Deep Conversion Complex